In This Issue...
*Forward this Newsletter to admired associates and/or friends."
Featured Leader: Roxana Gonzalez
"The Impact of Service to Society"
Insights to Success: Sixth P - Profitability. Second Tool: Confidence
Steve's Creations: Cooking & Society. Celebrate Friends & Freedom with Bar-B-Que Treats
____________
If you are a member, sign-in to www.ccqh-leadershipclub.com and go to Newsletter to access the actual Club Newsletter.
If you are a guest, Sign-up here to be added to our mailing list for this abridged version of our Newsletter.
____________
Sign-up here if you would like more information on becoming a Sponsor
____________
Happy Independence Celebrations, USA!
______________
We are pleased to announce that . . .
B Hopkins and Joey Grunewald enjoyed a successful Teleseminar on June 25th as our Guest Speakers, featuring the LIfestyle Area of Family & Plan. Our discussion surrounded "How to Build Close Relationships" from both a single and married perspective. Herb Rubenstein added value to the event as our Sponsor on behalf of the Autism Society of Colorado.
EJ Thornton is getting married to John Craig, and they are celebrating their Wedding Day on July 7th. Our best wishes and congratulations go out to the bride and groom to-be!
George Bigger has just received a U.S. Patent for his innovative De-Lite product. This
invention can be used for fund-raising events as a cup holder that lights up and highlights your cause or company. Congratulations George, and Happy Birthday on the Fourth!
Speaking of birthdays, Happy Birthday this July also to Veronique, Rosellen Lobree, Joshua Lau, and Kryistal Sanders!
Visit our Members Profile Directory to learn more about and contact any of these and/or other CCQH Leadership Club members.
____________
All CCQH Leadership Club Members are welcome to submit their personal and/or professional news and announcements to post in our Newsletter. Simply log in to the Club and submit to Cheri Lutton here.
The Impact of Service to Society
By Roxana Gonzalez
In this article, I will express to you the impact that my volunteer activities has made on society and myself. During the course of one year, I participated in the following projects in Mexico:
Creating a Learning Community Center to improve rural literacy

Conducting a market research study on tourism for local businesses

Visiting the Children's Hospital to pre-celebrate the Christmas holiday

Tutoring English to fifteen Mexican high school students

Building sixty-five homes in five days with a Habitat for Humanity team
The service to society has been integrated into our lives to help us. It is an action that leaves a mark in our hearts and lives. Education is one of the principal bases in a person's life. For this reason it is very important to respond to this necessity in a world that is changing each day.
A Learning Community Center (LCC) allows the people with a computer to use educational courses on-line. However, we need to be conscious about the fact that not all people know how to use a computer. Also we will find people of all ages, so it is very important to give them a preliminary basic lesson; with this, they can open their mind to a new way of learning.
OBJECTIVE
The objective of the LCC is to provide an education without limits (space or time). An education that can be useful as the result of the training programs from the Ocuituco Morelos people.
RESULTS
The consequences of the actions that I experienced not only left personal impact but also realistic results.
1. We worked with 40 people in Ocuitucos' Community in the LCC and the school certified their participation. We taught them the use of the LCC web page and left them with the possibility of studying more courses.
During two weeks in Ocuituco's community, there was a contest which invited people to participate in the new project that was arriving to their community. For the situation above, it was a computer lab with satellite internet. It was a wonderful surprise when we saw a high demand in this computer lab, and as a result we had to open more groups. This led to more work hours (from 8:00 am to 8:00pm). But this was not a concern because everything was much easier when we saw the student enter with a big smile on their face.
The classes were from Monday to Friday. We taught to help the students get rid of their fear of the computer. For example: we taught that, if you push a button the computer will not break. Of course, among the students we had a lot of kids. They went to take classes after their school. It was their curiosity which encouraged us to teach them more than the LCC web page. So we started to teach them the use of the internet. Also they learned Microsoft Word and Office. Among our students we had people who worked in the fields and in their homes. Not only did we spend time with them inside the classroom, we also visited their houses and farms. This helped us have a relationship outside of the classroom.
2. In Tlayacapan the information that we obtained can be used by any business in the community. We used surveys and a commercial study directed by one of the companies in the region.
3. In the Hospital, we worked with twenty kids. We brought them food and gifts.
4. In Tepetzingo, we helped fifteen people learn English. We gave them classes each week during six months. We used material made by us and material that came from a donation..
5. In the project Habitat for Humanity we gave a house to one of the families. My group was multinational and we worked together to accomplsih the goal.
However, 2004 was a long reflective year for me, so I wanted to participate in more beneficial activities that were relevant to my life. I decided to give English classes in a rural high school in Tepetzingo Morelos. At the same time I had the pleasure to participate in other community named Tlayacapan Morelos. In this community I collaborated to develop a regional project for the community. This project consisted of helping business people to realize what tourists require when they visit their community. This helped the business people to develop new tools for their commerce.
IMPACT: ACADEMIC, SOCIAL AND PERSONAL.
All the activities that I mentioned above gave me a lot of satisfaction and new lessons on life. This taught me to appreciate the education that I have. Also, it showed me new ways to identify work opportunities for a large number of people.
Now, I think that the impact that the society has on others is easier to measure when you leave the words behind and turn them into actions. Without doubts, I will remember a letter that . . . If you are a member, click here to sign in to www.ccqh-leadershipclub.com, Newsletters, and read entire article in the Club Newsletter
____________
If you are a guest, please post your questions &/or share your experiences related to this article here.

Roxana Gonzalez was born in Durango, Mexico. She has studied Business
Administration at both the University of Colorado, Boulder and the Institute of Technology and Superior Studies, Monterrey, Mexico. She is the winner of the National Award of Social Community Service 2005 in Mexico. Roxana has a passion for leadership and service to others. Roxana has demonstrated this interest and skill in her ongoing resume of philanthropic endeavors. She has earned recognition as a leader who has fostered an attitiude of profitabilty in societies that had limited resources. Roxana has also been successful in leading with positive principles for success that spread enthusiasm to others. Roxana has been involved with CCQH as a business intern for the CCQH Leadership Club.
Roxana's profile and article are also available at www.ccqh-leadershipclub.com.
____________
If you are a member, learn more about featured Leader Roxana Gonzalez in the Member Profile Directory at www.ccqh-leadershipclub.com.
If you are a guest, learn more about CCQH Leadership Club and this lifestyle at www.ccqh-leadershipclub.com, Lifestyle Area in Society & Profitability.
Guess Who . . . is the famous leader in s the famous leader in society who was the youngest person to receive a Nobel Peace Prize. He/she was also awarded a Medallion for the advancement of the principles of human liberty, a grammy award for best spoken word recording, the US Presidential Medal of Freedom, numerous awards for a legacy that advances world peace and human rights with a reputation for peaceful protesting, and many more awards along with twenty honorary degrees. HIs/her great works began with a calling as President of a Leadership Conference that ushered in a movement that changed the world.

The Guess Who™ Game focuses on celebrating famous leaders who display leadership qualities related to one of the Lifestyle Areas in Balance, Spirit & Passion, Mind & Purpose, Body & Power, Family & Plan, Work & Productivity, or Society & Profitability.
If you are a Club member, SUBMIT YOUR VOTE HERE, and if you get this right, you could qualifiy for the Guess Who Game surprise gift.
____________
Last Newsletter's (V.2/I.6) Guess Who Leader is . . . Bill Gates.
The Sixth P of Success: Profitability
Tools for Courageous Leadership
Second Tool: Confidence
Confidence directs the flow of your success in society through profitability. This can be measured in many aspects of wealth beyond currency. Embrace confidence as a tool that will enhance your leadership, and watch yourself soar to unlimited heights.
Confidence is closely related to the CCQH mission, "celebrating the centered qualities of humanity." When you reflect upon the quality of confidence, it is a qualtiy that you expect within a leader who has a command of his or her empowering strengths in the lifestyle areas of spirit, mind, and body. He or she is also well aware of their strengths in sharing in the lifestyle areas of family and work. This leader is available and able to contribute their best to make a difference in society. Confidence will resonate harmoniously with the desire to celebrate, to be centered, and to extend oneself outward into humanity and foster these same qualities in other likeminded individuals that are desiring to be stronger leaders. To help further, let's explore some imagery about confidence.
Think about a white horse with a knight in shining armor. Imagine confidence as the saddle centering that knight. In our reverie, we expect the knight to be confident and leverage its benefits. Lose the saddle, lose the balance, and yes, lose the knight. How important is Confidence to Leadership? How do we tap this tool to center our movements as we reach society through our leadership? First, we'll explore its importance through a research study conducted recently, and then, we'll share some powerful ideas on how you can tap into this tool to improve profitability success through your productivity in work.
A year ago, in the first national study of confidence in leadership, two-thirds of people across the United States said that there is a leadership crisis in our country, and nearly three-quarters said that unless our leaders improve, the U.S. would decline as a nation. A year later, this second study finds, confidence in American leaders has deteriorated even further: now some 70% believe there is a leadership crisis in the United States today. The pages that follow chronicle an unhappy moment in our national life. Just look at the National Leadership Index for 2006, a ranking of the public's confidence in the leadership of the 11 major sectors of society. Americans say they have more than a moderate amount of confidence in only two of the 11 sectors: the military and medicine. All other sectors of leadership fail to win even a moderate amount of confidence. Moreover, in the 12 months that passed between the first survey in the early fall of 2005 and the second a year later, confidence fell in five of the sectors: education, religion, business, Congress, and thexecutive branch. Nor is it reassuring that the three lowest-ranked sectors in the nation today are Congress, the executive branch, and the press. Critics will find a little good news here—for example, more than 83% of Americans say that it is very important or extremely important for the U.S. to be a strong global leader—but overall, the pattern is one that would worry a Lord Bryce.
The research in these pages grows out of a partnership between the Center for Public Leadership at Harvard's John F. Kennedy School of Government and U.S.News & World Report. The purpose of the partnership is to explore public attitudes about our leaders and to identify—through a national selection committee—the best of today's leaders. (U.S. News is featuring in its October 30th edition the people who have been named "America's Best Leaders" for this year.) Working together, the Center and U.S. News created a survey of public opinion with the market research firm, Yankelovich, Inc., which then conducted more than 1,600 interviews in September, 2006.
In addition to identifying significant trends in the public's confidence in its leaders, this report highlights . . . If you are a member, sign in to www.ccqh-leadershipclub.com here to go to Newsletters, and read the entire article in the Club Newsletter
Until we meet again, yes, remember to . . . go out and make your dreams come true!
All My Best,
Cheri Lutton
____________
Post your comments and/or share your experiences related to this article on our Forum.
Gain more on how to use this tool to increase your profitability in society through Insights to Success. Excerpt from Insights to Success, The Six P's of Success. ©2006 by Cheri Lutton. All rights reserved.
____________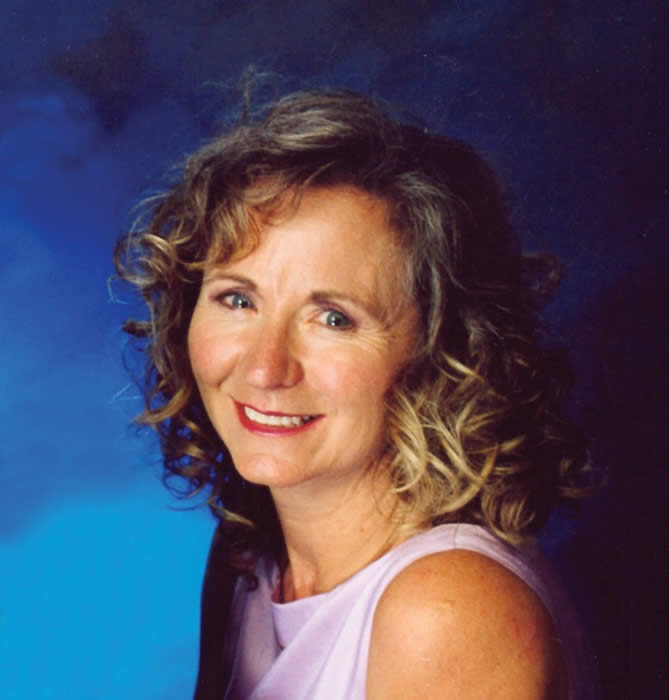 —Contributed by Cheri Lutton, CEO & Founder, CCQH, Inc. Cheri serves through her work as a Leadership Development Expert, Author, and Media Host/Speaker.
For more on Cheri. or to contact Cheri, submit here.
Celebrate Friends and Freedom
with Bar-B-Que Treats
Steve's Tip™: Use Kabobs to Create a Community Experience
Fire up the grill and the taste buds. It's time for a summer cook-out. The temperature is sizzling, and so is the grill. Just as we all usually end up in the kitchen for a dinner party, why not create a social atmosphere around the grill where everyone can enjoy good company and good eats.
A shish-kabob feast is a a fun, and, perhaps, healthier alternative to burgers or brats on the grill. It is also a great way to involve your dinner guests in the meal preparation. Celebrate independence and the height of barbeque season with one of several kabob meals. Here are some suggestions to follow. If you are a member, sign in to www.ccqh-leadershipclub.com and go to the Newsletters to read entire article in the Club Newsletter.
Until next time,
Happy Cooking and Enjoy your Celebrations!
Steve Lutton
Steve's Creations - from Soil to Skillet
____________
Post your questions &/or feedback for this article here.
Excerpt from Steve's Creations-from Soil to Skillet®.©2006 by Steve & Cheri Lutton. All rights reserved.
____________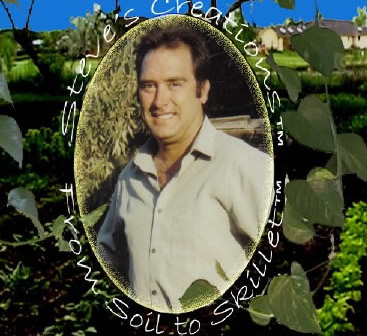 —'Contributed by Steve Lutton, CFO, CCQH, Inc. and Renegade Press, Inc. Steve serves through his work as a Cooking & Gardening Expert and Business Manager.
For more on Steve, To contact Steve, submit here.
________________________________________________________________________
*Forward this Newsletter to admired associates and/or friends."