In This Issue . . .
*Forward this Newsletter to admired associates and/or friends."
"Nurturing an Appetite for Good Eats"
Insights to Success: Power. 4th Tool. Go for it Now
Steve's Creations: Baking Power. Making Homemade Fruit-filled Cookies
On Our Website . . .
Get Inspired: The Emotional Power of Food
By Ricki McKenna
____________
If you are a member, sign-in to www.ccqh-leadershipclub.com and go to Newsletter to access the actual Club Newsletter.
If you are a guest, Sign-up here to be added to our mailing list for this abridged version of our Newsletter.
____________
Sign-up here if you would like more information on becoming a Sponsor
____________
Happy New Year! Ring in 2008!!!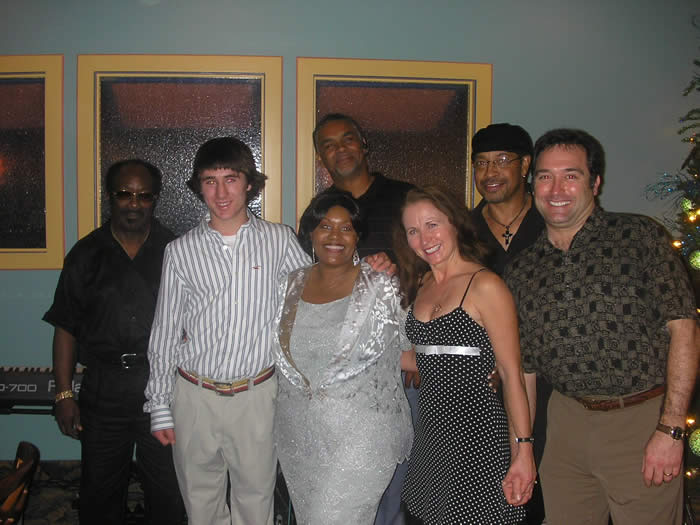 Debborah Ramsey's Birthday Celebration in Florida
with The Groove Division Band & Steven, Cheri, and Steve Lutton
____
Share Your Leadership Desires for 2008 on our Forum
Contribute your Ideas for Topics, Causes, and/or Needs for the Club to serve you in fostering a balanced lifestyle and advancing your legacy in leadership.
________________
Words-that-Inspire™

Body & Power will fuel the fire
To conquer your goals and truly inspire

A healthy body and mind ignites and energizes
your life to be free
And the very best you can possibly be

Bridge your passions of body and power within
Keep a healthier lifestyle, then, just choose to begin

Be on purpose, set your goal and take action
You will achieve your leadership, which is your best option.
—Joey Grunewald
* * *
"Fuel that fire in your belly and ignite the power within your body
toward the good that you desire." —Cheri Lutton
* * *
Welcome to our CCQH® Gifts-that-Inspire section that features CCQH® Words-that-Inspire in harmony with each Newsletter's Lifestyle theme. We will also begin to highlight goods and services from our CCQH Leadership Store, offering Club Member Pricing even to Guests who purchase during this limited featuring. A Portion of the Net Proceeds for each highlighted good or service will be donated to specific nonprofit causes, projects, organizations, and/or foundations.
Our current highlight is a music cd, In Your Holy Presence, by Debborah Ramsey. Written and performed by Debborah, this contemporary Christian music will inspire your faith, as well as, delight you to step out, dance, and enjoy your life. Debborah's vocal range is showcased in this cd, ranging the mood from a calypso beat to a slower, yet powerful sound. More about Debborah's talents can be found on www.debborah-ramsey.com. A portion of the net proceeds from our sales will be donated to The Pearl Foundation, fostering their mission to develop global orphanages called spark of light villages. More information is availble on www.sparkoflightvillage.org.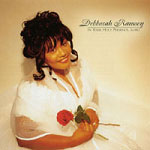 In Your Holy Presence ™
By Debborah Ramsey, CCQH
Price: $15.99 | Club Member Pricing: $14.39 Purchase
Portion of net proceeds will be donated to The Pearl Foundation.
Debborah Ramsey will uplift you with her vocal range and Christian contemporary collection of songs with something for everyone. Contemporary/urban gospel with a splash of Caribbean flavor, guaranteed to take listeners to a new dimension in the genre of 'Praise and Worship'.
Remember, Club Member Pricing is available right now, even to Guests!
We are pleased to announce that . . .
Joey Grunewald has earned the award-wining position as Our Club's Inaugural 2007 Leader of the Year. Her unwavering dedication, participation, genuineness, compassion and enthusiasm within all of the CCQH Club's activities epitomizes our vision and mission of advancing a legacy in leadership by celebrating the centered qualities of humanity for famous and private individuals alike. On behalf of the Club, we would like to extend our deepest thank you to Joey, and we will continue to show her our appreciation througout the year with many surprise activities.
Debborah Ramsey is enjoying her success as the headline vocalist for the Groove Division Band with a regular engagement at the Enigma Restaurant near Cocoa Beach, Florida. One of their regular songs is "Watch Out World" written by Cheri Lutton, and soon to be available at our CCQH Leadership Store. Steve, Cheri, and Steven Lutton enjoyed celebrating Debborah's birthday this year with her at the Enigma.
Steve and Cheri Lutton and Steven also enjoyed a pre-holiday vacation on a Disney Cruise, catching some R&R time with the Disney characters, as well as, on the Disney private island, Castaway Cay.
David Veal's new American Throttle motorcycle board game presales are going well. More information can be obtained at www.americanthrottle.com.
Our 2007 Holiday TeleNetworking Conference was successfully hosted by Leader of the Year Joey Grunewald, sponsored by Dave Veal & Veal Creative LLC with commentary host Steve Lutton and founding host Cheri Lutton. Our club member guest leaders included: Pat Adamson, Kathryn Alexander, Ricki McKenna, Maria Simone, Jesse Wilkinson, Kevin Rather, and May Tran. Powerful discussion, profile introductions, and brainstorming for Leadership Desires for 2008 brought about many ideas that can be viewed on the Club Forum under Member General Discussion. Jesse Wilkinson will be coordinating efforts with Cheri to begin development of one of these ideas, the first CCQH Leadership Club book, which will feature contributing chapters from Club Members. More details forthcoming.
* * *
Visit our Members Profile Directory to learn more about and contact any of these and/or other CCQH Leadership Club members.
For our upcoming events . . .
Stay tuned for more details on upcoming TeleSeminars. If you would like to be considered as a Guest Speaker, please contact us here with your request and suggested topic.
____________
All CCQH Leadership Club Members are welcome to submit their personal and/or professional news and announcements to post in our Newsletter. To contact the CCQH Leadership Club with your news, submit here to Cheri Lutton.
Nurturing an Appetite for Good Eats
By Steve Lutton
I have nurtured an appetite for good eats, and, once you have it, I believe it's with you for life. I am looking forward to sharing my love and passion with you – gardening and cooking, I will share with you how you, too, can grow delicious and healthy creations from seed to soil to skillet. Being married to a marketeer like Cheri, it is easy to understand how I know have my passion branded as Steve's Creations - from Soil to Skillet®.
My passion started when I was a child, while cooking and gardening with my parents and grandparents. I recall my joy of cooking from as far back as helping my grandmother prepare holiday meals. I enjoyed canning with my mother. I learned to process and store food that was grown from our family garden. I further garnered a deeper knowledge of horticulture through years of working at a wholesale nursery in Westlake, Ohio.
I now enjoy gardening on a larger scale, and grow foods to prepare in the kitchen. I do quite a bit of preserving fruits, drying herbs, and/or canning produce for the off-season. Just about all of my seedlings began in a hobby-like setting in my basement. I believe anyone who has the desire can nurture a hobby of gardening and cooking their own creations. I look forward to sharing all of my experiences and tips with you from growing seeds to cultivating the right soil, as well as, cooking home-grown treats with my special recipes.
Gardening with my wife Cheri and children Crystal and Steven is a great bonding experience. Cooking for my family gives me great joy. Mealtime, while savoring our garden delights, becomes a great opportunity for us to engage in quality time together.
I am sure that you will reap the same benefits from soil to skillet as you cultivate this wonderful hobby into your lifestyle!
Happy Cooking & Gardening,
Steve Lutton
Steve's Creations – from Soil to Skillet®
. If you are a member, click here to sign in to www.ccqh-leadershipclub.com,Newsletters, and read entire Club Newsletter.
____________

Post your comments and/or share your experiences related to this article on our Forum
Steve Lutton is the Business Manager and Co-Owner of Renegade Press, Inc., and has served his company for over twenty years. Steve is, of course, also the Host Personality for Steve's Creations - from Soil to Skillet®. He is also the chief advisory board member for CCQH, Inc., and his printing company has been responsible for the printing of the CCQH® and the Mirrors of Love® marketing materials. Steve also serves as the Treasurer for the Brownsville Water District in Boulder County. His leadership expertise extends into business management, finance, accounting, sales, marketing, printing, and customer service, as well, as home improvements, auto mechanics, cooking, and gardening.
Steve has also been recognized for his culinary interests and talents in the book Denver Men in the Kitchen. Steve enjoyed a season of television with the Steve's Creations segment that was included in the award-winning Mirrors of Love lifestyle variety show in Boulder, Colorado. Steve has been profiled in Mirrors of Love - In Acts of Courage, and awarded for his courage in physical leadership during the 2004 Mirrors of Love Leadership Event. Steve also enjoys mountain climbing, running, cycling, and hiking.
Steve is happily married to Cheri Lutton, and together they enjoy family life in Colorado with their college daughter Crystal and high school son Steven, along with their pet rabbit and chinchillas. Steve's profile and article are also available at www.ccqh-leadershipclub.com.
___________
If you are a member, learn more about our featured Leader in the Member Profile Directory at www.ccqh-leadershipclub.com.
If you are a guest, learn more about CCQH Leadership Club and this lifestyle at www.ccqh-leadershipclub.com, Lifestyle Area in Body & Power.
Guess Who . . . is the famous leader who has inspired dancers in all genres, setting the standards for excellence in musical performances. He/she has a legacy of thirty musical films within a twenty-five year span of time. George Balanchine and Rudoph Nureyev rated him/her as being the greatest dancer of the twentieth century, and is generally acknowledged as the most influential dancer in the history of film and television musicals
The Guess Who™ Game focuses on celebrating famous leaders who display leadership qualities related to one of the Lifestyle Areas in Balance, Spirit & Passion, Mind & Purpose, Body & Power, Family & Plan, Work & Productivity, or Society & Profitability.
If you are a Club member, SUBMIT YOUR VOTE HERE, and if you get this right, you could qualifiy for the Guess Who Game surprise gift.
____________
Last Newsletter's (V.4/I.3) Guess Who Leader is . . . .Rick Warren.
Body & Power
Tools for Courageous Leadership

Fourth Tool: Go for it Now
Go for it now as if it were the carrot of your desire on the path of your daily journey, leading you with the power you harness through your passion and purpose.
Before we "go for it now", it would be wise to review how far we've traveled with the tools for courageous leadership "in body" thus far. Remember, that the passion and purpose you generate from your heart and mind must be expressed through the actions of your body. Power is the P that fuels your body toward your targeted success, providing you have nourished yourself to optimal physical health. You can use these tools to move towards achieving optimal physical health, and, in turn, increasing your reserve of power to achieve
other life goals or creating a new habit. Proper sleep, relaxation, exercise, nutrition, and support are the basics for improving your physical health. Whether your goal is to get involved with your church, graduate from college, run a marathon, decorate your home, write a business plan, or start a charitable foundation, these tools will be helpful in all instances of each of your lifestyle areas.
Now, let's review the first three tools for the I BEGIN NOW Strategy.
Intend to begin a call-for-action on a specific physical goal by a target date—like right now.
Become 100% committed with written and verbal accountability.
Enthuse the mind and senses emotionally with daily affirmations and imagery.
Putting the rubber to the road is the name of the game. This is the moment for "get ready, get set, go!" where we need to jump off the starting line and MOVE. Baby steps can be the best therapy for building confidence and a new habit of living. So many times, we may think that our action steps need to be extraordinary or hugely noticeable. We find ourselves believing that we need to wait for the right moment, or when we are in better shape or preparedness to begin. However, that delusion is the very wall that blocks us from making progress.
With the three tools in place, you are ready to launch off the pad and propel yourself into motion. With intention and commitment infused with the emotion of enthusiasm, you are set. Why? This is because you have invested yourself into a campaign of focused energy toward the good that you desire. Whatever we feed, grows. and you are in good hands investing positive energy into yourself as a true believer of your self-actualization. Procrastination does not thrive in this honest, open, and positive environment. It relies on confusion, darkness, and negativity to stall your action. Think about it. I remember times in my life when I allowed too many thoughts and excuses to build up in my mind that actually convinced me that I was not ready to begin a desired action. Yet, as soon as I got serious and created a campaign of intensity and focus, these thoughts simply disappeared. The mind can only concentrate on one thought at a time. Once I chose to engage those thoughts on the first three tools of intention, commitment, and enthusiasm with written and verbal accountability, I shifted into gear and began to act on these impulses of desire Action is what allows us to manifest these mindful desires and show the world who and what we are as capable human beings with unlimited potential for worthy leadership.
The last point I'd like to address is on the concept of time which can be a trickster. If you are a member, sign in to www.ccqh-leadershipclub.com and go to the Newsletter to
____________
Post your comments and/or share your experiences related to this article on our Forum.
Gain more on how to use this tool to increase your profitability in society through Insights to Success. Excerpt from Insights to Success, The Six P's of Success. ©2006 by Cheri Lutton. All rights reserved.
___________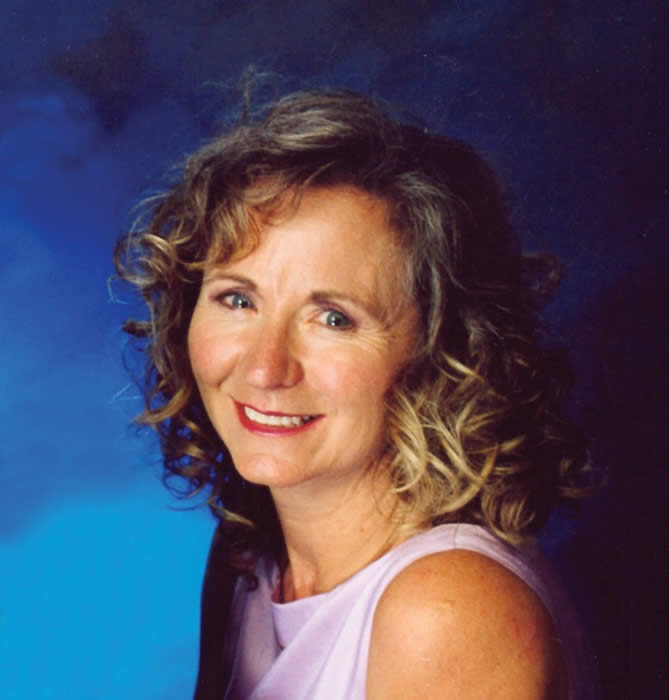 Contributed by Cheri Lutton, CEO & Founder, CCQH, Inc. Cheri serves through her work as a Leadership Development Expert, Author, and Media Host/Speaker.
For more on Cheri. or to contact Cheri, submit here.
Baking Power
Making Homemade Fruit-filled Cookies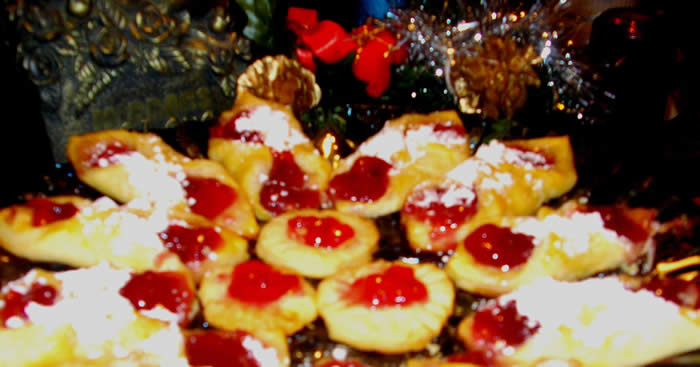 Steve's Tip™:: Fruit-filled cookies are another wonderful way
to share your garden goodies.
Now that our New Year's resolution to lose weight has kicked in, probably the last thing on your mind is to bake cookies. However, for those of you who like to bake regularly, the holiday season is just another time for baking. We are all resolved to lose weight, however, we all must eat! As the good rule of thumb says, "everything in moderation." Most of us love cookies, and few would argue that homemade cookies are the best. Chocolate chip and shortbreads are fine, but let's get a little fancier with some cookies filled with our delicious garden preserves. Cheri and Crystal teamed up to make Cheri's favorite fruit-filled rolled cookies. There's a lot of power in these traditions, fueling generations to bond and continue sharing recipes. Cheri began enjoying these cookies when her mom made them during her childhood years, and has passed that enjoyment and recipe onto her daughter now. They are cream cheese based, and have just the right amount of sweetness from the fruit and powdered sugar sprinkles. One of my favorite cookie recipes is buttery-nut fruit-filled imprint cookies. Since Steve's Creations yielded a fine crop of fruit for preserving, we have lots to go around with both types of cookies. Our plum tree yielded its best crop in years. And, the raspberries set heavy fruit, allowing for a beautiful batch of jams. When I look at the variety of jars of colorful plum and raspberry jams, and the grape jelly, there's so many memories packed into them for me as a gardener. Steve's Creations gets help from our son Steven every fall with our annual concord grape jelly production.These are the just some of the more sentimental benefits of growing your own preserves, and these two recipes are yet another wonderful way to pass on the delicous preserves from your previous garden. While you are filing these cookies, you can revel in the idea that these are truly homemade cookies.
Did You Know . . . the benefits of cookies?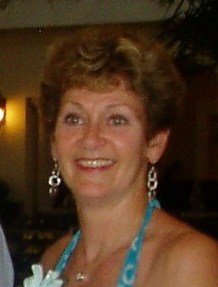 Join the CCQH Leadership Club's resident Nutritionist, Ricki McKenna, as she embellishes Steve's Creations with facts and anecdotes on the wholesome benefits contained within a variety of foods, herbs, and meal ingredients. Club Members can enjoy all her articles at Steve's Creations in the CCQH Leadership Club website member.
(Enjoy Ricki's Did You Know column below Steve's article.)
Now, for the recipes . .
Recipes for Homemade Fruit-filled Cookies
Ingredients for imprint cookies
1/2 cup softened butter
1/2 cup shortening
1/2 cup packed brown sugar
2 eggs (whites and yolks separate)
1 tsp vanilla
2 cups all-purpose flour
1/2 tsp salt
1 1/2 cups very finely chopped nuts (preferrably peanuts and walnuts)
Chilled Preserves of choice (preferrably Homemade)
Instructions
Combine butter, shortening, brown sugar, egg yolk, and vanilla and mix well.
Stir in flour and salt and thorougly combine.
Cover and chill dough for one to two hours.
Form dough into 11/4 inch balls
Place balls in whipped egg whites
Quickly drain on a fork and plunge into chopped nuts
Lightly press nuts into surface of balls
Place balls on nonstick baking sheet
With finger, lightly press dough in center to flatten and form crater
Bake in 350 degree oven for 10 to 12 minutes unti lightly brown
Allow cookies to cool (about 15 minutes)
Remove from baking sheet and fill crater with jelly or jam
Yields: approx 4 dozen cookies
Ingredients for fruit-filled blankets
2 cups cut-up, softened butter
1/2 tsp salt
4 cups all-purpose flour
2 - 8 oz pkg. cut-up, softened cream cheese
2 eggs
2 tbps water
1 cup powdered sugar
Chilled Preserves of choice (preferrably Homemade)
Instructions for making the fruit-filled blankets
Combine flour and salt
Add the cream cheese and butter
Blend with a mixer on low speed
Form dough into a ball
Cover wtih waxed paper, and chill dough for one to two hours
On lightly floured surface, roll dough flat to 1/8" thickness
Cut dough into two inch squares, set aside
Beat the eggs and combine with water
Brush the egg mixture onto each dough square
Line a 1/4 tsp preserves in the middle of each square, diagonally
With square positioned like a diamond, press the left & right edges together
Brush the egg mixture onto each filled blanket
Place cookies on a nonstick baking pan
Sprinkle powdered sugar onto the top of each blanket cookie
Bake in a 375 degree oven for 10 to 12 minutes or until golden brown
Place on rack immediately after baking, and allow to cool
Serve in platter or store in layers with paper towels in tin cans
Yields: approx 5 dozen cookies
Bon Appetit,
Steve Lutton
Steve's Creations – from Soil to Skillet®
If you are a member, sign in to www.ccqh-leadershipclub.com and go to the Newsletter
to read entire Club Newsletter.
Post your questions &/or feedback for this article to our forum here.
Excerpt from Steve's Creations-from Soil to Skillet®.
©2006 by Steve & Cheri Lutton. All rights reserved.
____________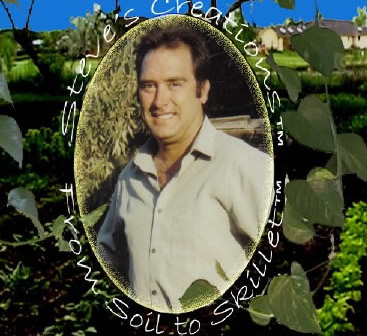 Contributed by Steve Lutton, CFO, CCQH, Inc. and Renegade Press, Inc. Steve serves through his work as a Cooking & Gardening Expert and Business Manager.
For more on Steve, To contact Steve, submit here.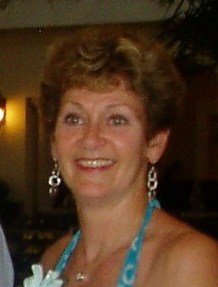 Did You Know . . . the benefits of cookies?
By Ricki McKenna,
Certified Nutritionist
COOKIES
All I'll say about these delicious treats is what Cheri and Steve say, "go for it now, yet, in moderation." Indulging in seasonal traditions like cookies—before, during, and/or after the holidays—is healthy, and provides a special moment to be a kid with your kids. A little dose of "cookie therapy" can actually help you feel more relaxed and less stressed by balancing your cortisol levels. So, rather than stress over the guilt, ingulge with a cold glass of milk or a hot cocoa, then go for a walk in the morning.
Yumm!
To Your Health!
Ricki
Post your questions &/or feedback for this article to our forum here.
Ricki McKenna, CN a.k.a. mchealthy, is CCQH's resident Nutritionist and a licensed, Certified Nutritionist in the Roaring Fork Valley of Colorado. She loves to eat real food, counsels with individuals and families, conducts seminars and workshops on health and nutrition. Her specialty is teaching creative eating for weight loss and maintenance and a healthy body and outlook. Ricki can be reached by contacting her here.
_______________________________________________________________________
*Forward this Newsletter to admired associates and/or friends.