In This Issue . . .
*Forward this Newsletter to admired associates and/or friends."
Featured Leader: Steven Lutton
Insights to Success: Power. 3rd Tool - Enthusiasm
Steve's Creations: Cooking & Power. Recipe for Fresh Carrot Ginger Soup
On Our Website . . .
Get Inspired: Thoughts on Getting Bigger By George Bigger
____________
If you are a member, sign-in to www.ccqh-leadershipclub.com and go to Newsletter to access the actual Club Newsletter.
If you are a guest, Sign-up here to be added to our mailing list for this abridged version of our Newsletter.
____________
Sign-up here if you would like more information on becoming a Sponsor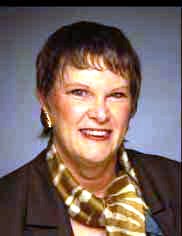 For Kathryn Alexander's August 31st Workshop, Denver, Colorado
"How to go from Concept to Reality in Four Hours or Less"
Words-that-Inspire™
Jumping and rolling all about
Trampoline tumbling; I figured it out
Love the high bars just twirling around
I know I can make it, with both feet to the ground
Jumping and cart wheeling from a standing position
So please just point me in the right direction
Lessons in gymnastic class are so much fun
Completing each level until I am done. —Joey Grunewald
"Day to day, individuals with courage will either elect to conquer the ordinary or be required to conquer the extraordinary. Either way, nature's forces will move on and new heroes will be standing tall in a world that is made better for all."—Cheri Lutton
Welcome to a new section that features CCQH® Words-that-Inspire in harmony with each Newsletter's Lifestyle theme. We will also begin to highlight goods and services from our CCQH Leadership Store, offering Club Member Pricing even to Guests who purchase during this limited featuring. A Portion of the Net Proceeds for each highlighted good or service will be donated to specific nonprofit causes, projects, organizations, and/or foundations.
Our current highlight is a book of poems, Jo-Jo's Livin Like a Kid, by Joey Grunewald. Written and illustrated together with Joey's grandchildren, this book will delight family members of all ages and inspire the child within you. More about Joey's talents can be found on www.gifts-from-my-heart.com. A portion of the net proceeds from our sales will be donated to The Pearl Foundation, fostering their mission to develop global orphanages called spark of light villages. More information is availble on www.sparkoflightvillage.org.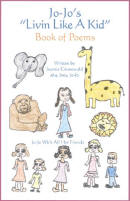 Jo-Jo's Livin Like a Kid™
By Joey Grunewald, Gifts from My Heart
Price: $10.95 | Club Member Pricing: $9.85 Purchase
Portion of net proceeds will be donated to The Pearl Foundation.
Joey Grunewald and her grandchildren will inspire you with poems and illustrations that will make you feel like "livin like a kid." Also, makes a great gift for your lovedones. Remember, Club Member Pricing is available right now, even to Guests!
We are pleased to announce that . . .
September 29th, we are having a Fall Casual Hike for local Club members. Meet at 8:30 am in front of the Chataugua Restaurant, Chataugua Park, Boulder, Colorado. Bring water and a morning snack..
November 3rd, we are hosting a Fall Potluck Dinner Party for all Club members and their spouses/dates at the Lutton residence, Lafayette, Colorado. Join us at 6:30pm for an evening of fun, good eats, and socializing.
Kathryn Alexander did a stellar presentation for our August 20th Teleseminar. See Kathryn in person and learn more about ethical leadership this Friday. Kathryn will be introducing a new half-day workshop, starting on August 31st, "How to Go from Concept to Reality in Four Hours or Less." This workshop is for those who make decisions in teams, plan projects, lead teams that impact other parts of the organization and leaders who want to have their employees engaged and committed. CCQH, Inc. will be one of the sponsors for this workshop. More information and registration is currently available at www.ethicalimpact.com.
Gale Connell was also one of our Guest Speakers on August 20th, featuring "Ethical Leadership as an Entrepreneur - How to Lead the Way!" This was a stellar presentation with high content value and great handouts. Congratulation, Gale and Kathryn! Gale is President of CEO Space, Colorado, and an expert in every aspect of launching a new business. CEO Space Colorado is also one of the sponsors for Kathryn Alexander's upcoming August 31st workshop.
Patty Veal attended the US Autism and Asperger Association Annual Conference in Denver, Colorado, August 8-11th. Patty felt the international conference was very inspiring and added to her knowledge and resources on these subjects. Patty is dedicated to fostering balance in these areas, working closely with her son to discover the wonderful ways that we can each connect with one another!
Anita Sanders is continuing her education in working with at-risk youth and famiies, pursuing a license in mental health counseling. Anita lives with her family in Oklahoma, and has been a longtime enthusiast of postgraduate studies.you can learn more on her leadership profile.
Norm Lowery has been recognized by the US Tennis Association as one of the top twenty-five ranking tennis players in the country for his age bracket. Way to go Norm! Besides playing tennis so well, Norm enjoys a healthy mental health practice in Boulder, along with his wife Sandy.
Visit our Members Profile Directory to learn more about and contact any of these and/or other CCQH Leadership Club members.
____________
All CCQH Leadership Club Members are welcome to submit their personal and/or professional news and announcements to post in our Newsletter. Simply log in to the Club and submit to Cheri Lutton here.
Playing Football
By Steven Lutton
I love to play football for many reasons. For one, it is a great rush. I love practicing with my team to get ready for the next game. Then I love to win the game. Football is a great way to stay in shape and keep you from being lazy. It teaches you about sportsmanship and commitment. It also makes you keep your grades up so you can keep playing. Every time I step on the field, I am exhilarated. Football is the best sport there is. You have to think and respond, and then you get to make contact. None of the other sports out there are exactly like football. It's not like some sports were your sprinting the whole time, or others where you don't really get to run. In football, you play the game in short bursts.
There are a variety of positions to play in football. The difference between offense and defense makes a great balance. I have been playing football since I was a little guy in the Lafayette bobcat's league, except then I played for Erie. I have always been waiting to play high school football, and now I am very proud and excited to be a part of Centaurus High School's Warriors Football Team.
I plan on playing all of the years I go here, and there is nothing that can stop that. I'm not the type that will get hurt and be afraid to play anymore. When I was a 12-year old, playing for Erie we were in the playoffs and the first game against Brighton Red, I twisted my ankle and had to go to the hospital. They thought it was broken, at first, and it felt like it. However, . . .
I am very excited to play with the Centaurus High School program, now into my second year and a new football season!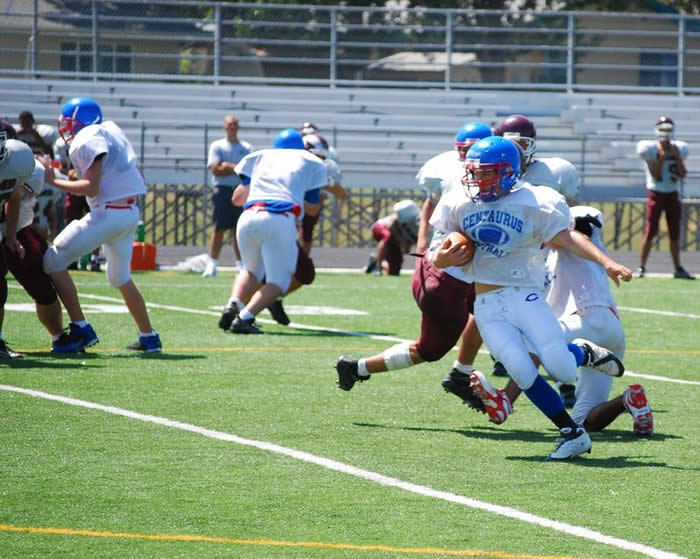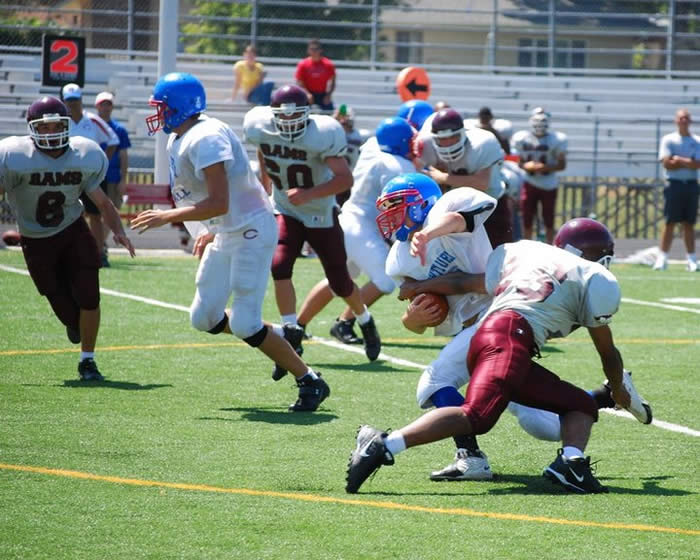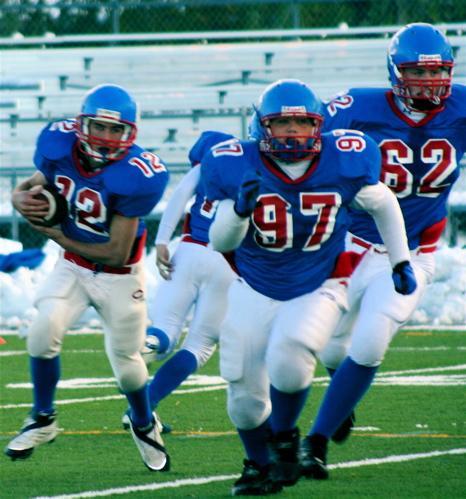 Photos Courtesy of Centaurus High School Website
. . . If you are a member, click here to sign in to www.ccqh-leadershipclub.com, Newsletters, and read entire article in the Club Newsletter.
____________
If you are a guest, please post your questions &/or share your experiences related to this article here.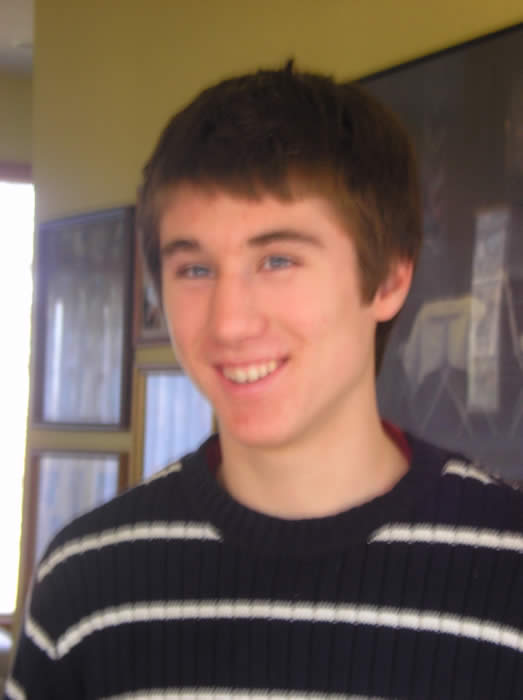 Steven Lutton is a sophomore at Centaurus High School in Lafayette, Colorado. He plays for the Centaurus "Warriors" football team as an offensive running back and on special teams as a kick return and kickoff. Steven is a strong believer in teamwork and good sportsmanship. Son of Cheri and Steve, and brother to Crystal, Steven adds a balanced perspective on life to the family with his love for playing football and basketball. Steven is also an avid reader, enjoying the Harry Potter series, sports trivia, and a variety of other fiction and nonfiction books. More information on Steven can also be seen on his Leadership Profile at www.ccqh-leadershipclub.com
____________
If you are a member, learn more about featured Leader Cheri Lutton in the Member Profile Directory at www.ccqh-leadershipclub.com.
If you are a guest, learn more about CCQH Leadership Club and this lifestyle at www.ccqh-leadershipclub.com, Lifestyle Area in Spirit & Passion.
Guess Who . . . is the famous actor who has always kept his/her attractive body in shape, and used his/her fame and power in many healthy ways, one of them being a brand line of healthy homegrown tasty treats.
The Guess Who™ Game focuses on celebrating famous leaders who display leadership
qualities related to one of the Lifestyle Areas in Balance, Spirit & Passion, Mind & Purpose, Body & Power, Family & Plan, Work & Productivity, or Society & Profitability.
If you are a Club member, SUBMIT YOUR VOTE HERE, and if you get this right, you could qualifiy for the Guess Who Game surprise gift.
____________
Last Newsletter's (V.3/I.1) Guess Who Leader is . . . .Napoleon Hill
Third Tool - Reason
Tools for Courageous Leadership
Enthuse the mind and senses emotionally with daily affirmations and imagery.
Now that you have become 100% committed to your "Intent to Begin" a project or goal with passion and purpose, your power will fuel your body into motion once you unleash this very miraculous tool, enthusiasm. Yes, miraculous, as this word is derived from the early Greek word "en theos" which means "in God." Go ahead and try it. Feel the feeling that enthusiasm creates within you. Imagine your Creator flowing power within and through you, as well as, shining it back at your reflection. Your every fiber of your being is activated with this great tool called enthusiasm. As you read Steven Lutton's article describing his passion for football, and you observe the illustrations showing him with the ball in his photos, you can almost see and taste enthusiasm. Think about it. Would you ever follow a leader that was anything less than enthusiastic? Would you consider buying a good or service from someone who displayed anything but enthusiasm toward their wares? I can't think of any good reason why anyone in their right mind would feel . . . If you are a member, sign in to www.ccqh-leadershipclub.com here to go to Newsletters, and read the entire article in the Club Newsletter
May you take the time to reflect on the magnificence of your life, and until we meet again, I wish you good vibrations to go out and make your dreams come true!
All My Best,
Cheri Lutton
____________
Post your comments and/or share your experiences related to this article on our Forum.
Gain more on how to use this tool to increase your profitability in society through Insights to Success. Excerpt from Insights to Success, The Six P's of Success.
©2006 by Cheri Lutton. All rights reserved.
____________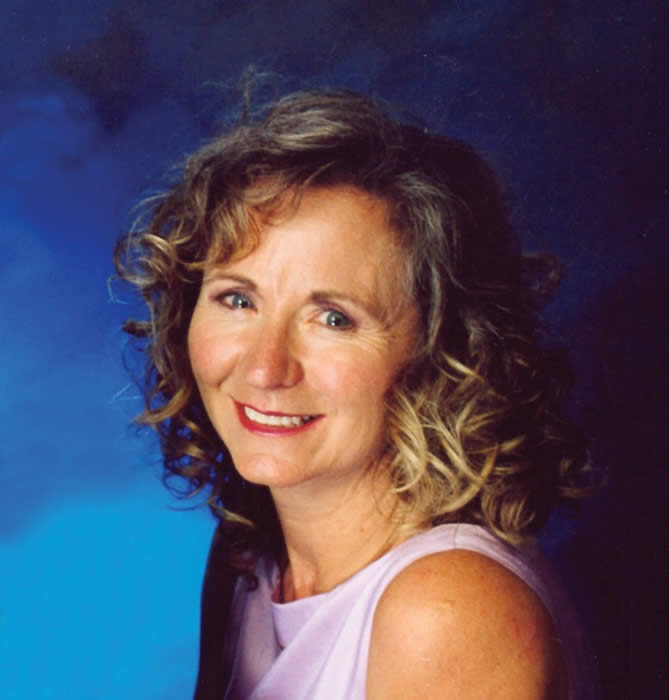 —Contributed by Cheri Lutton, CEO & Founder, CCQH, Inc. Cheri serves through her work as a Leadership Development Expert, Author, and Media Host/Speaker.
For more on Cheri. or to contact Cheri, submit here.
Recipe for Fresh Carrot Ginger Soup
Steve's Tip™: If you are a member, sign in to www.ccqh-leadershipclub.com and go to the Newsletters to read entire article in the Club Newsletter.
A number of years ago, I had a dilemna of too many carrots to go around for our family to eat as a side dish. In fact, I had too many to even give away to my neighbors. I gave it some thought, reminiscing about how much I enjoyed a carrot soup I had recently, while taking my wife out for dinner. Then, it came to me. Yes! I, too, can make a delicious gourmet soup, adding ginger and—voila! We will have another of Steve's Creations - from Soil to Skillet. So, there you have it, the beginnings of a new recipe that I am pleased to share with you now. My wife loves it, and it's so nourishing to boot. If you are a member, sign in to www.ccqh-leadershipclub.com and go to the Newsletters to read entire article in the Club Newsletter.
Bon Appetit,
Steve Lutton
Steve's Creations - from Soil to Skillet
____________
Post your questions &/or feedback for this article here.
Excerpt from Steve's Creations-from Soil to Skillet®.©2006 by Steve & Cheri Lutton. All rights reserved.
____________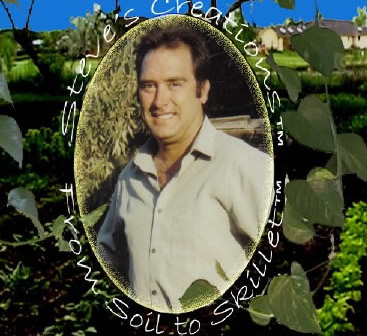 —'Contributed by Steve Lutton, CFO, CCQH, Inc. and
Renegade Press, Inc. Steve serves through his work as
a Cooking & Gardening Expert and Business Manager.
For more on Steve, To contact Steve, submit here.
________________________________________________________________________
*Forward this Newsletter to admired associates and/or friends."